Year 3 Cumulative Design Projects 2003: 'Community'
The final year major projects were mostly related to the idea of community either based on shared interests, working relationships, interdependence or mutual support. One of the reasons for adopting this theme was to focus on functional and relational issues rather than image. Nonetheless some startling imagery resulted. The collective nature of the projects was apparent in the challenging scale and complexity of some the programmes.
Click on images to enlarge.
An eco-community based in two adjacent disused tower blocks in east Manchester combining living and working spaces together with communal facilities, and applying principles of sustainability.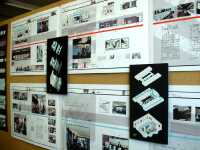 'Andsoto' is a Hip-Hotel proposed for Mackie Mayor building. This is a haunt for aspiring celebrities and the great and good of Manchesterís creative and business community, as well as an exotic temporary home for prominent visitors to the city.
Music venue with associated training, retail facilities and eateries arranged in peripheral areas and on the ramped upper levels. The performance space is wrapped with a dominant yellow curved wall.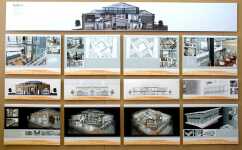 This European food emporium has a rich selection of food and drink for sale in the retail spaces at the lower level, and restaurants featuring the cuisine of various cultures at mezzanine level. The bar in the exhilarating central space is the design focus.
'SK8' is a skateboard park with associated facilities geared towards the skateboarding community. The retail spaces are entwined by the ramp that snakes through the volume of the Victorian market hall in Manchesterís Northern Quarter.