Students paintings at V&A
Art of Nurture Competition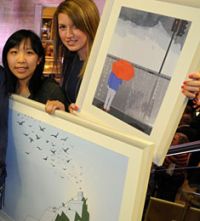 TWO MMU artists have been selected as finalists in the UK Art of Nurture competition.
23-year-old Elspeth Livingstone, an Illustration with Animation graduate, and final year Architecture student Louise Lau will now have their work exhibited at the Victoria and Albert Museum in London.
Art of Nurture is designed to support UK artistic talent and is sponsored by Lloyds TSB Commercial Finance in partnership with Arts & Business.
Held this week at Manchester Art Gallery, the contest named four winners from the North West including Elspeth and Louise.
Ad campaign
The talented twosome will now go head-to-head at the national final for a chance to see their work in a national advertising campaign and secure a paid work placement with a leading creative agency.
Colchester-born Elspeth said: "Seeing my work exhibited in the Manchester Art Gallery has been exciting enough, but winning the chance to have my piece hung in the Victoria and Albert Museum is a once in a lifetime opportunity."
22-year-old Louise, from Kent, added: "The national final will be a valuable opportunity to meet the crème de la crème of young British art talent."
V&A show
Mike Scowen, of Lloyds TSB Commercial Finance, commented: "Art of Nurture gives these artists a valuable opportunity to showcase their work.
"This year's entries were of a high calibre, with over 600 coming in from across the country."
The winners will have their work exhibited at the national finals at the Victoria and Albert Museum on 6 April. A prestigious panel will judge the competition, including Jonny Hannah, the award-winning illustrator whose work has featured in Vogue and The New York Times and Arts & Business chief executive, Colin Tweedy.

15 March 2011