Keith Duffy Surprises Material Girl
Leanne Richard's design used on car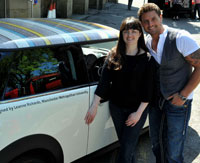 Leanne Richards of Victoria Park, the winner of the MINIVERSITY design a roof competition held at the Williams MINI Manchester showroom on Chester Road, got a very special surprise today when Keith Duffy presented her with a MINI featuring her design.
Keith drove the MINI to the Manchester School of Art to surprise the embroidery student who had not yet seen the design on the roof.
Leanne's design was selected from hundreds of entrants. The
BA (Hons) Embroidery
Student from MMU said, "I am over the moon that my design was chosen and it was brilliant to see it on the roof of the MINI. I've always loved MINI's and I'm really proud that I will be part of such an iconic brand. My inspiration for the piece came from looking at the urban environment and combining it with automotive design, which is the focus of my current project."
Isabel Wright, Leanne's tutor added, "I am delighted that Leanne took the initiative to create and submit the design. She is a very talented student and definitely deserves this honour."
MINI Manager at Williams MINI Manchester, Graham Reedy said, "We were inundated with entries for the MINIVERSITY competition and they were all of a really high standard. Leanne's however did really stand out, and we were really excited about unveiling her design today."
To find out more or to see Leanne's design, please visit Williams MINI, 326 Chester Road, Manchester or visit
www.williamsgroup.co.uk
Courtesy of SKV Communications

4 June 2010